Teachers
Do your students know what a healthy relationship looks like? It's important for them to recognize what an abusive relationship looks like too, and to know where to turn for help before things get worse. Encourage students to take a look and share with friends.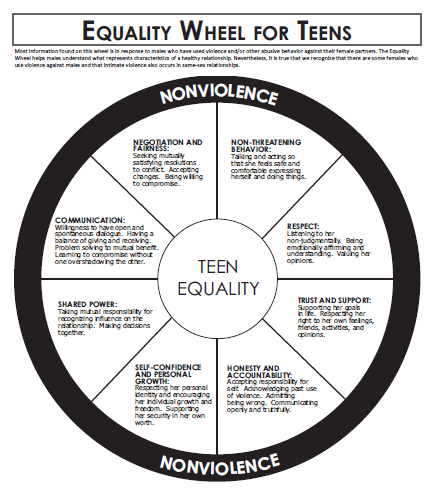 Most of the information found in this wheel is in response to males who have used violence and/or other abusive behaviour against female partners. The Equality Wheel for Teens helps males understand the characteristics of a healthy relationship. Albeit, we recognize that some females do use violence against males and intimate violence also occurs in same-sex relationships.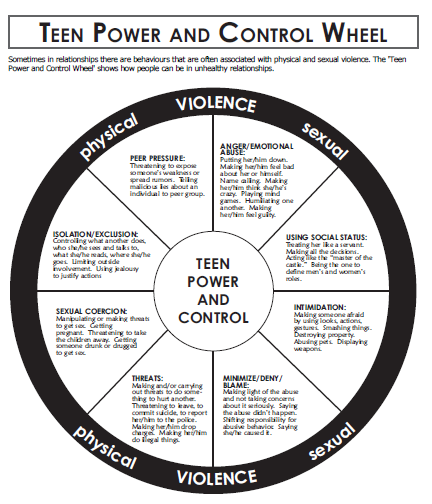 Sometimes in relationships there are behaviour that are associated with physical and sexual violence. This Teen Power and Control Wheel shows characteristics of unhealthy relationships.
The Microphone Project
The Microphone Project is a resource to help teachers, parents and community group leaders start a conversation with students on topics including consent, healthy relationships, communication and support. This resource supports grade 9 health curriculum and other outcomes specific to sexual health.
PEI singer/songwriter Kinley Dowling wrote the song 'Microphone' to tell the story of how she was sexually assaulted after her high school prom. The Youth Engagement Working Group of the Premier's Action Committee on Family Violence Prevention had the vision to use the song and video as a classroom resource on Prince Edward Island. With the support of Kinley, Jenna MacMillan as video director and the task team, the Microphone Project was born.
The Microphone Project consists of four 45 to 60 minute lessons, each with its own theme, as follows:
Module 1: Consent
Students learn to identify other areas in their lives where consent is needed; to practice scripts for asking, answering and negotiating consent; and to accept the need to ask for and obtain consent in sexual relationships. Also available in French
Module 2: Gender Stereotypes
Students learn how to identify how gender norms and stereotypes that contribute to sexual violence; to understand how traditional gender norms and stereotypes can be toxic for everyone regardless of sex traits and/or gender identity; and to identify strategies for resisting or challenging harmful gender norms and stereotypes.
Module 3: Sexual Assault
Students learn how to identify Prince Edward Island supports to students who are sexually assaulted; how to respond to sexual assault; and to think about the ramifications of sexual assault.
Module 4: Bystander Role
Students learn to understand that taking action as a bystander can help prevent violence; to identify ways to safely intervene as a bystander; and how to recognize their responsibility as a bystander.
Other resources
Cybersafe Care
Whether in person or online, relationships are important to overall well-being. Unhealthy relationships can be damaging, and exist in person and online. Visit www.cybersafecarepei.ca to learn more.
Purple Ribbon Campaign
The PEI Advisory Council on the Status of Women established the Purple Ribbon Campaign Against Violence in 1991 to raise awareness about violence against women, to remember the 14 women murdered at L'École Polytechnique in Montreal on December 6, 1989, to remember the 10 PEI women murdered by someone who knew them since 1989, and to call for justice for missing and murdered Indigenous women across Canada. Visit peistatusofwomen.ca for a bilingual teachers resource guide.
Youth Tip Sheet
Ways Youth Can Help End Violence [PDF]
Help for Teens and Young Adults
In each PEI family of schools, staff are available to provide support and counseling to children and youth who are struggling with mental, social and physical health issues.
Call 1-800-668-6868 24/7 or text 686868
If a student or a friend is experiencing dating, family or sexual violence, the Information for People in an Abusive Relationship guide provides details on helpful services.
The age of consent in Canada for sexual activity is 16 years-old. By law, adults (18 or older) cannot have sexual relations with people under 16.
Questions to ask yourself:
Learn more about other services that can help: